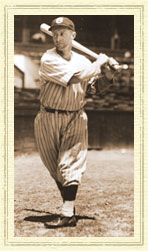 Bud Connally
(1936)
The Southern Association was organized in 1900 by Abner Powell, Charles Frank, and Newt Fisher from the ashes of the failed Southern League (1885 – 1899). This site pays tribute to the rich history of the teams, the players, and the cities that made up the Southern Association from 1901 through 1961. During its 60-year history the league produced countless players who would go on to become major leaguers, All-Stars and even Hall of Famers. We invite you to learn more about the Southern Association by touring the website.
The Southern Association
Baseball Conference
The Southern Association Baseball Conference is an annual gathering of writers, historians, fans and former players of the Southern Association teams. The first conference was held at Rickwood Field in Birmingham in 2004 and the event has grown steadily. Please click on the Upcoming Conferences link for more information about the next Southern Association Baseball Conference or click on Past Conferences to view the conference brochure, agenda and photos from prior years. We hope you will join us for our next event!